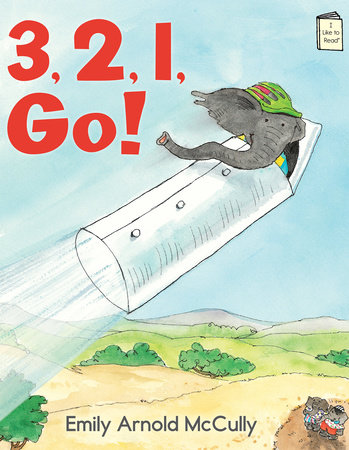 Buy the Book at:
IndieBound
Barnes & Noble
Amazon


3, 2, 1, Go!
Illustrator(s): Emily Arnold McCully
Ebook | Pages : 24
Size: 8 X 10 | USD

$

6.99
ISBN: 9780823433476 | Pub Date: 2015-01-23
Grade: | Age: 4 to 8
Other Editions: Hardcover, Paperback

Themes: Easy Readers, Animals/Fiction

About the Book
Ann is playing school with her friend Bess. "Oh, no. Here comes Min!" Ann says. "This is a school zone, Min. School is hard. You are not ready. Here is the line. You may not step over it." Min is clever and resourceful. She gets a board, a tube, a rope, and a rock and builds and launches a rocket that catapults her right into the middle of her big sister's playdate without stepping over the line! Beginning readers will cheer underdog Min's triumphant landing in this easy-to-read book that celebrates ingenuity and perseverance.