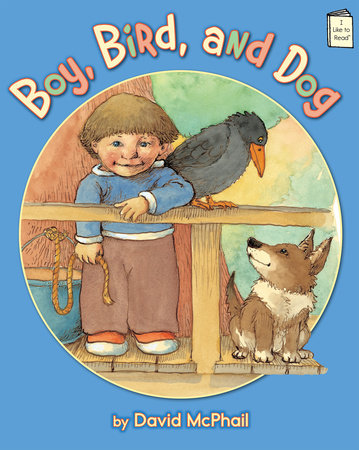 Buy the Book at:
IndieBound
Barnes & Noble
Amazon


Boy, Bird, and Dog
Illustrator(s): David McPhail
Ebook | Pages : 24
Size: 8 X 10 | USD

$

6.99
ISBN: 9780823429004 | Pub Date: 2013-01-22
Grade: | Age: 4 to 8
Other Editions: Hardcover, Paperback

Themes: Easy Readers, Friendship, Animals/Fiction, Determination

About the Book
David McPhail's poignant characters express intelligence, joy, and the affectionate bond of friendship in a world that is wondrous, safe, and happy.

Boy and Bird can go up to the tree house, but Dog cannot. Boy has an idea. Using a rope and a pot, the boy is able to pull the dog up the tree to a vantage point where the three friends can observe all good things in the world—including Mom bearing a plate of cookies.

Out come the rope and pot again, and up go the cookies, to be shared by three very happy friends.

Reviews
This "read-aloud, child to adult, with lots of pictorial details to notice and talk about . . . [is] a sweet, gentle charmer."—Kirkus Reviews

About the Series

I Like to Read® books are picture books written and illustrated so that even the newest reader can enjoy a satisfying, quality literary experience. The books in the series are written at kindergarten and early first grade reading levels.

"These books deftly combine text and art to create a positive experience for new readers.—School Library Journal

"This series dares to make entertaining reads from short texts and familiar vocabulary—Kirkus Reviews

"Each one makes the hard world of learning to read enough fun to encourage children at this critical developmental moment to try another one."—Vicky Smith, Children's and YA Editor at Kirkus Reviews

Click here for flash cards for each book, educator's materials for the series and the complete listing of I Like to Read® books!