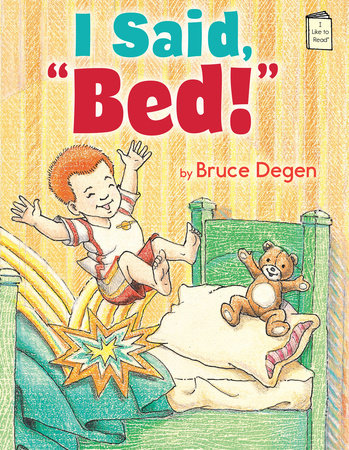 Buy the Book at:
IndieBound
Barnes & Noble
Amazon


I Said, "Bed!"
Illustrator(s): Bruce Degen
Ebook | Pages : 24
Size: 8 X 10 | USD

$

6.99
ISBN: 9780823431267 | Pub Date: 2014-01-17
Grade: | Age: 4 to 8
Themes: Easy Readers, Humor

About the Book
Imaginative, funny, and charming, this is a perfect story for early readers—some of whom may still be waging bedtime battles of their own.


"Go to bed."
"No."
"I said, BED."
"I said, NO!"


Mom eventually wins this argument, but even after her son is all tucked in, his opinion hasn't changed. "Bed is bad," he whispers to his teddy bear. Teddy, however, disagrees. "This bed is GOOD," he says. "This bed can GO." Indeed, with a few alterations, the bed is suddenly mobile—and boy and bear are journeying down the road, out to sea, and ultimately, to outer space, where the boy concludes that this is one bed that's worth fighting for!



THE REVIEWS ARE IN

"Everything about this book is solid, from its picture-book size to its seamless melding of story and art. It raises the bar on what a beginning reader can be and will inspire any child to enjoy reading."—School Library Journal


About the Series

I Like to Read® books are picture books written and illustrated so that even the newest reader can enjoy a satisfying, quality literary experience. The books in the series are written at kindergarten and early first grade reading levels.


"These books deftly combine text and art to create a positive experience for new readers."—School Library Journal


"This series dares to make entertaining reads from short texts and familiar vocabulary"—Kirkus Reviews


"Each one makes the hard world of learning to read enough fun to encourage children at this critical developmental moment to try another one."—Vicky Smith, Children's and YA Editor at Kirkus Reviews

Click here for flash cards for each book, educator's materials for the series and the complete listing of I Like to Read® books!