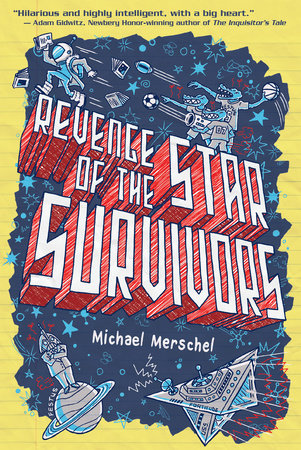 Buy the Book at:
IndieBound
Barnes & Noble
Amazon


Revenge of the Star Survivors
Illustrator(s):
Paperback | Pages : 0
Size: 5-1/2 x 8-1/4 | USD

$

7.99
ISBN: 9780823440412 | Pub Date: 2018-10-16
Grade: | Age: 10 up
Other Editions: Hardcover, Ebook

About the Book
Middle school meets the Dark Side in this grimly hilarious survival story of a sci-fi-obsessed eighth grader.

Clark Sherman's situation is desperate. He's just crash-landed on an inhospitable planet--also known as Festus Middle School--where the natives don't take kindly to newcomers . . . particularly ones who love sci-fi and memorizing episodes of the hit TV show Star Survivors. Hostile natives include violent bullies, uncaring teachers, and the fiendishly evil Principal Denton, and Clark realizes he'll be lucky enough to survive eighth grade, let alone thrive. But then, three kindred life forms make themselves known . . . and suddenly, Clark finds he not only has the will to survive, but the strength to fight back. Merschel's writing is sharp, painfully funny, and deeply moving as he brings Clark's inner strength into the light.