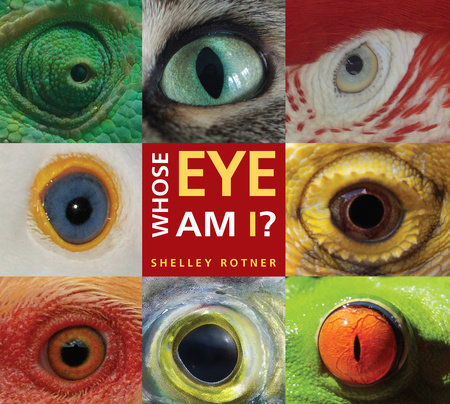 Buy the Book at:
IndieBound
Barnes & Noble
Amazon


Whose Eye Am I?
Illustrator(s): Shelley Rotner
Paperback | Pages : 32
Size: 9-1/2 x 8-1/2 | USD

$

8.99
ISBN: 9780823440450 | Pub Date: 2018-12-18
Grade: | Age: 4 to 8
Other Editions: Hardcover, Ebook

About the Book
Eye-popping photographs, a guessing game, and fascinating facts come together to introduce vision to young readers.nnWho am I? read captions accompanying vivid photographs of colorful animal eyes. As children guess which animal belongs to each eye, they will discover how every animal has a unique and amazing way of seeing. Snakes have clear eyelids that do not open or close. A scallop has hundreds of eyes around the edge of its shell. Parrots and goldfish can see colors that are invisible to humans. Even though spiders have eight eyes, they don't see well at all! In addition to facts about animal vision, this book also includes a clear explanation of how human eyes work, a labeled diagram of a human eye, a glossary, and an index.