Hope Lim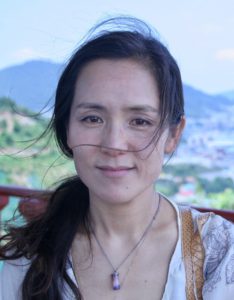 Holiday House sat down with author Hope Lim to discuss her new picture book, My Tree, illustrated by Il Sung Na.
Please tell us about My Tree.
On his first day in America, a boy from Korea wanders into his new backyard and finds an old plum tree, tall, crooked, and quiet. She reminds him of his old persimmon tree in Korea and instantly becomes his tree, "Plumee." They spend four glorious seasons together, but then Plumee falls down during a rainstorm. The boy's longing for her grows each day until he discovers the old tree's legacy and hope for a new beginning in a new tree he plants with his father and finally feels home.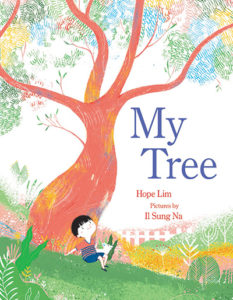 What was your inspiration behind the book?
My Tree was inspired by a real-life experience. When we were away for a vacation, our neighbor called us with the news that our one-hundred-year-old tree fell down during a severe rainstorm. We were sad that it fell and also worried that it may have damaged our home or our neighbors' homes. But when we returned, our plum tree lay across our yard without touching or damaging anything. Our kids and other neighborhood children played on the tree until a boy was hurt. After she was taken away, our backyard never looked the same. I wrote down what I remembered about her throughout the four seasons and added my experience as an immigrant who misses things that are gone.
What makes this book special to you? What impression do you hope it will leave with young readers?
My Tree is special because it has many memories about my family around an old tree that welcomed us into our new house. This book also represents who I am as a person. It contains the way I view the world through a lens of hope and my habit of finding meaning in the things around me.
I hope young readers find something meaningful in My Tree by feeling connected to the boy, for his experiences as a child are universal, whether they are about losing something special, finding a way to have fun through imagination, feeling attached to an object with a tender heart, or observing the world around him.
What inspired you to write, and when did you know you would become an author?
My children and the way they think, see the world around them, and express how they feel.
When I read picture books to my kids, I discovered what I truly love: art and words. A picture book is a special medium that mixes the art and the story, and when the two are matched perfectly, magic happens, evoking profound emotions in readers. Then when I went to preschool with my kids and stayed there almost every day watching them at play, I gained a new perspective on how they think, talk, and imagine, and I wanted to capture their world in their own words. That's when I knew I wanted to be an author.
Lightning-round Questions
What was your favorite book growing up?
Greek and Roman mythologies
What is your favorite memory from childhood? 
Catching dragonflies and sitting atop a local mountain, daydreaming while watching white clouds pass
Did/do you have any pets? If so, which one was/is your favorite?
Mimi, a dog my mom had back in Korea. I used to bring treats and toys for her whenever I visited Korea. We have a puppy now, Bear, who has brought great joy to my family.
Name three of your favorite authors/children's book authors of all time.
Leo Lionni, William Steig, Edgar Allan Poe
What book(s) have you most wanted to read, but haven't yet?
One Hundred Years of Solitude by Gabriel García Márquez
If you could have a magical talent, what would it be?
Reading peoples' minds and influencing their decisions.
Who was your hero growing up? Who is it now?
My mother
About Hope Lim
Hope Lim is a children's book author from South Korea who now lives in San Francisco with her family.
​Hope has always loved language. She majored in English Literature and earned a master's degree in Conference Interpretation. For many years, she navigated the world of diplomats, working as a conference interpreter for the US State Department. Then motherhood ushered her into the world of children's literature, where she discovered the power of picture books, which transcends time, place, and language.
Now, Hope continues her love of language by reading with her two children and writing stories, often inspired by them. She runs every day, practices yoga, and indulges in dark chocolate while trying to translate her inner child's emotions into words.
–from Hope Lim's website at HopeLim.com