Jessixa Bagley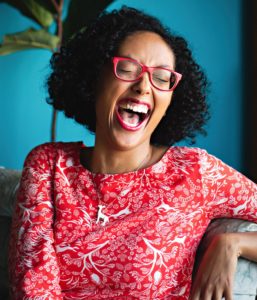 Photo credit: Jenny Jimenez
Holiday House sat down with author and illustrator Jessixa Bagley to discuss her new picture book, Daisy.
Please tell us about your book.
Daisy is a little warthog who feels like she doesn't quite fit in with the other girls at school. To escape the stresses of her classmates, Daisy finds joy by looking for special overlooked treasures around the forest. She keeps them in a fort that no one knows about. It's her special place where she's free to be herself in secret—until a mysterious person starts leaving her things. . . .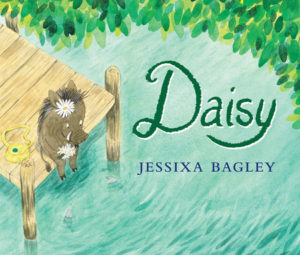 What was the inspiration behind the book?
Daisy is my version of the age-old story of being different than the other kids in school. I think growing up as usually one of the only children of color (and almost always the only black kid) at school and my community, I automatically always felt pushed to the outside of things. So I really did have to find myself and my place in the things that I loved to do. Finding art and writing helped me understand who I was from a very young age—those were my treasures.
There are some literary homages in the book as well! Anne of Green Gables inspired the old schoolhouse setting for part of the book (as well as Anne's outsider experience), The Great Gatsby inspired the idea of a character watching someone from afar (and of course the name of the character "Daisy"), and To Kill a Mockingbird is in there by way of the treasures being left à la Boo Radley. I love all of those books. Because this book is such a universal story, the classic literary illusions really add to the timeless quality I want the book to have.
What makes this book special to you?
This book is very special to me because I get to touch on very real feelings I had about being different in looks than the other girls when I was a kid. I am so happy to be able to bring myself to this story, but also touch on something that is a widely shared experience for young girls. It was also one of the most joyful experiences I've had illustrating a book. I really pushed myself early on to embrace a new way of working in order to bring out a more expressive quality in the art. I wanted to be as loose as possible with the painting and drawing. I did many nature studies of forests and studied a lot of Andrew Wyeth paintings to understand my environments better. And when it was time to paint, I went into the most complicated spreads first and always found myself smiling while painting. It's the most satisfied I've felt about the art in a book I think because I had so much fun and confidence when painting it!
What inspired you to write and illustrate, and when did you know you would become an author and illustrator?
My love of picture books and comics when I was a child has always propelled me forward in my art and writing. I loved the art so much in picture books and read them way past the suggested age. I just remember always writing stories and coming up with characters that I could build words and experiences around.
Do you have a local bookstore (or bookstores) you shop at frequently?
I am spoiled that in Seattle we have so many good bookstores! I love my neighborhood bookstore, Queen Anne Book Company, and I try to partner with them for events when I can. I also love Secret Garden Books in Ballard. I do my book launches there. I love Third Place Books, which has locations all around Seattle! I love Elliott Bay Book Company in the Capitol Hill neighborhood of Seattle. And Mercer Street Books in Queen Anne is my favorite used bookstore in the city! It was owned by our friend Debbie, and my husband worked there for years—even taking our son Baxter there during his shifts when Baxter was a baby.
Lightning-round questions
Favorite book growing up?
One of my many favorites was The Tale of Peter Rabbit by Beatrix Potter. It shaped me as an artist.
Favorite book memory from childhood?
Going to Powell's Books with my mom and sister and pouring over the picture books.
Did you have any pets? If so, which one was your favorite?
My cat Vincent was my most favorite pet. He was a very human-like animal and was very smart and funny. He even inspired the lead character in my picture book Vincent Comes Home.
Three of your favorite authors/children's book authors of all time?
Beatrix Potter, William Steig, Arnold Lobel
Books you have most wanted to read, but haven't yet?
I have a mountain of books at home that I desperately want to read but haven't yet! Amongst that mountain are Wildwood Chronicles by Colin Meloy, both Locas and Palomar by the Hernandez Brothers, The Hemingses of Monticello by Annette Gordon-Reed, to seriously name a few. I have a smaller but equally daunting pile of books I want to re-read.
Book from your childhood that changed your life? Adulthood?
Dinosaurs Divorce by Laurene Krasny Brown and Marc Brown. It was the first time I saw part of my experience as a child represented in a book. I really connected to it. I loved the Illustrations in their almost-comic-book style. As an adult, when I read A People's History of the United States by Howard Zinn, I felt like I was going to fall out of my chair. Everyone who lives in America should read it. It is so important and valuable to really understanding the history of this country and to the experiences for people of color.
Favorite children's book character and why?
Probably Toad from Frog and Toad by Arnold Lobel. He is so exploding with character. He's so beautifully flawed it's endearing, just like all the best people.
If you could live in any book, which would it be?
Probably inside the peach in James and the Giant Peach by Roald Dahl.
If you could have a magical talent what would it be?
Teleportation. Hands down. It would be the most amazing thing to transport myself anywhere at any time. But I'd want to be able to take people with me.
Favorite food?
HAMBURGERS!!!
Has it changed since childhood?
Nope! Except I used to call them "hangaburgs."
What food did you hate growing up but came to love in adulthood?
Onions, but only when they are cooked or fried into onion rings.
Who was your hero growing up? Who is it now?
I didn't really have one hero growing up. I think anyone that made comics and books was my hero when I was a kid. I think my hero now though is my husband. He can do anything and when he does it he does it well. He does so much for me and my son—I'm pretty sure he's a superhero.
About Jessixa Bagley
Jessica Bagley is the creator of many distinctive picture books, including Boats for Papa, winner of an SCBWI Golden Kite Award for best picture book text, and Laundry Day, a recipient of an Ezra Jack Keats Honor for Writing. Her book Henry and Bea received a starred review from Publishers Weekly, which said, "Bagley's direct slice-of-life watercolors and text anchor her characters in the world, offering reassurance and affirmation to the story and to readers." She lives in Seattle, Washington, with her husband Aaron, also an author and artist, and their son, Baxter.