Kate Albus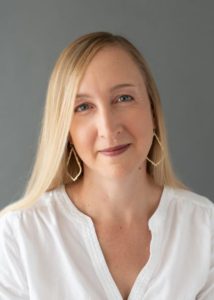 Photo credit: Jennifer Riley
Holiday House sat down with author Kate Albus to discuss her new middle-grade novel, A Place to Hang the Moon.
Kate, please tell us about your book.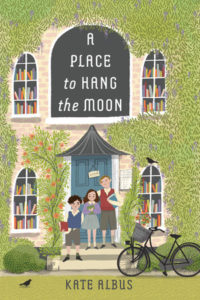 Anna, Edmund, and William Pearce aren't terribly upset by the death of their not-so-grandmotherly grandmother. But the children do need a guardian, and in London in the dark days of the Second World War, those are in rather short supply. Could the mass wartime evacuation be the answer? It's a preposterous plan, but off they gokeeping their predicament a secret and hoping to be placed in a temporary home that ends up being more . . .  forever-ish.
Moving from one billet to another, the children suffer the cruel trickery of foster brothers, the cold realities of outdoor toilets, and the hollowness of empty tummies. They seek comfort in the village lending library, whose kind librarian, Nora Muller, seems an excellent candidate—except that she has a German husband whose whereabouts are currently unknown.
Nevertheless, Nora's cottage is a place of bedtime stories and fireplaces, of vegetable gardens and hot, milky tea. Most important, it's a place where someone thinks they all three hung the moon. Which is really all you need in a mum, if you think about it.
What was the inspiration behind the book?
A Place to Hang the Moon is drawn, in the loosest of terms, from C. S. Lewis's The Lion, the Witch and the Wardrobe. Hence, Edmund. I have always loved that novel, but I will admit, at the risk of losing any literary street cred, that the part I loved best was the part about the evacuation.
Even without dwarves and witches, being sent away to live with strangers in the wilderness of the English countryside seemed like more than enough adventure.
The fact that millions of English schoolchildren left their families and boarded trains to be met by utter strangers in the countrysidestrangers who would care for them, to varying degrees of success, for months or even yearsremains an extraordinary source of fascination and inspiration to me.
What makes this book special to you? What impression do you hope it will leave with young readers?
This book is about the search for familyboth the one you're born with, and the one you choose. I hope readers will enjoy coming along on that quest, particularly with the backdrop of World War II England and the extraordinary bravery and resilience of the British people.
What inspired you to write, and when did you know you would become an author?
I spent many years writing scientific-journal articles and for some reason I always assumed I had to be either scientific or creativebut not both. Then I attended a dear friend's creative-writing group and fell in love with it. I had a story in my headabout the World War II evacuation of Londonand squirreled myself away in my studio while my kids were in school. For at least a month (probably a hundred pages?) I didn't even tell my family I was doing it, but when we'd had pizza for a suspicious number of dinners, I finally fessed up. I love writing for the pure, simple, and solitary pleasure of it. Other than raising a family, it's the only thing I know that is all about reveling in the process, as opposed to the product.
Lightning-round questions
What was your favorite book growing up?
The Little House series
What is your favorite memory from childhood?
I loved playing school. I had an ancient typewriter in my room, and I used to type up class lists that included all my favorite literary characters. The four Pevensies were in the same class as Charlie Bucket, Ramona Quimby, Mary Lennox, and Peter and "Fudge" Hatcher. Which, in retrospect, was kind of fabulous.
Do you have any pets?
My family's dear dog is a rescued foxhound named Molly. She holds the world's record for biggest scaredy-cat.
Name three of your favorite authors/children's book authors of all time.
Oh wow, three? Adult favorites are definitely Kate Atkinson, Mary Doria Russell, Stephen King, and Dave Eggers. Children's favorites are Roald Dahl, Frances Hodgson Burnett, Shel Silverstein, Enid Blyton, Cynthia Rylant, and Kate DiCamillo.
What book(s) have you most wanted to read, but haven't yet?
Yikes . . . the pile of books to be read on my nightstand is liable to crush me in my sleep, but I suppose the one I've meant to read the longest is Anna Karenina.
What book from your childhood changed your life? Adulthood?
ChildhoodCharlotte's Web and The Outsiders made me love reading as a child and adolescent. AdulthoodDave Eggers' What Is the What changed my worldview and made me politically active.
Who is your favorite children's book character and why?
Molly Weasley from the Harry Potter books. She's the mom I aspire to be.
If you could live in any book, which would it be?
Charlie and the Chocolate Factory
If you could have a magical talent, what would it be?
My son asks me this all the time, and the answer is always flying. Ironically, I really hate air travel.
What is your favorite food?
Mashed potatoes
Has it changed since childhood?
Nope
What food did you hate growing up but came to love in adulthood?
Onions. . . . As a kid I used to pick them out of everything; now I appreciate them for the culinary workhorse they are.
Who was your hero growing up? Who is it now?
As a kid, my literary hero was Laura Ingalls Wilder. As an adult, it's her ma.
About Kate Albus
Kate Albus grew up in New York and now lives with her family in rural Maryland. The already-dangerous pile of reading material on her nightstand grows daily. A Place to Hang the Moon is her first book. Visit Kate at katealbus.com.