Kathy Caple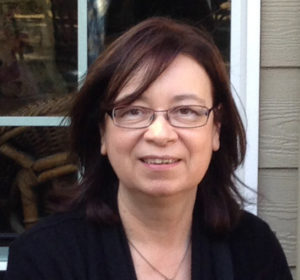 Q: Kathy, please tell us about your new book A NIGHT AT THE ZOO.

A: When the zoo closes, Sam and Pop are still napping on a bench. The moon comes up and animals come out to play. When Ostrich takes Pop's cell phone, Parrot and Monkey get in on the action. But when the phone starts ringing, Monkey freaks out and chaos ensues.
Q: What was your inspiration behind this story?

A: Many years ago before cell phones were invented I went to the zoo with a friend. At the end of the day we stopped for a snack and sat on a bench near the ostrich enclosure. It was near closing time and people were leaving. We were talking and enjoying ourselves when suddenly we realized that we seemed to be the only people left. The sun was going down and the light was strange and beautiful at the same time.
Then pheasants, peacocks, ducks, rabbits, squirrels, and other friendly animals were walking onto the path where people had been. They were eating popcorn and nuts that people had dropped. I noticed the ostrich was stretching his neck and head over the wall. I wanted to make a picture book about it and even went back the following week with another friend to take photos for possible illustration reference, but I just couldn't think of how I would make it a story. I imagined it would be something very elaborate and didn't feel ready to tackle it though I did jot down a few ideas in a notebook. That notebook got tucked away in a box and was not opened for many years.
When I was trying to come up with ideas for an I Like to Read® picture book, I decided it was time to clean out my storage closet. In one of the boxes, I found that same notebook from long ago. I read the earlier attempt at the zoo story and got inspired to try it again as an I Like to Read® picture book.
My first attempt at the story did not have the cell phone and it didn't really work. Then I had a dream about a phone call where someone was left waiting on the other end of the line. After that I had a telephone conversation with my editor about how the story needed something more happening. Since I was holding a phone in my hands, and I had just had a dream about a phone, the idea of having the cell phone as part of the story popped into my head and it all came together.
Q: What makes this book special to you? What important message do you feel it brings to young readers?

A: I wanted to make a book about that zoo experience for a long, long time and it turned out that something that hadn't even been invented yet ended up being an integral part of the story.
Life is full of surprises and as I get older I find a lot of things seem to go full circle. Things from the distant past unite with the present and form new meanings and connections.
My message is, if you have a good idea for a book but are not sure what to do with it, hold on to it. Who knows what it might inspire in the future.
Q: What inspired you to write/illustrate and when did you know you would become an author/illustrator?

A: I liked making little books as early as first grade when I began learning to read and write. It was in about fifth grade during a mystery reading phase that I became aware of how, when reading a good book, I felt like I was almost living in the story. I never wanted those books to end. So, I started really thinking about illustrations in chapter books and began seeing them as a way to extend involvement with the story. I thought perhaps illustrators must enjoy that feeling of involvement with the story when they drew the pictures. I knew that was something I would like to try doing.
Later I found out more about illustrators, and by the time I graduated from high school, I knew I would like to illustrate children's books. Writing evolved a little bit later in college. Then I found I liked doing both.
Q: Who is your favorite children's book character and why?

A: Sara Crewe from A Little Princess because she used her imagination to transform a drab and difficult world into something else.
Q: What book from your childhood changed your life? Adulthood?

A: A young adult book that changed my life was Going on Sixteen by Betty Cavanna (the girl in the story dreamed of becoming an illustrator). When I was very young I remember The Little Engine That Could. My most recent favorite book is The Book Thief. It makes me think about the power of words and writing in one's life.
About the Author
Kathy Caple's many books include Duck & Company, an American Booksellers Association Pick of the List about which Kirkus Reviews wrote, "Snap this one up… it's sure to fly off the shelves," and Duck & Company Christmas. She lives in Cambridge, Massachusetts and is also a librarian. Visit Kathy online at www.kathycaple.com.