Laura Brown and Elly Kramer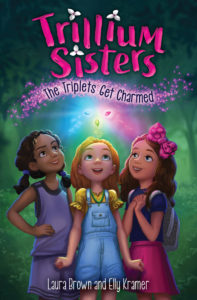 Holiday House sat down with Laura Brown and Elly Kramer to talk about their middle grade fantasy series, Trillium Sisters,  illustrated by Sarah Mesinga.
Please give us a one-paragraph synopsis of your book.
Meet the Trillium sisters, eight-year-old triplets Giselle, Emmy, and Clare! With their father, Dr. J.A., brother, Zee, and pets, the mini'mals, they live on a beautiful alpine mountain in the coolest tree house you've ever seen. The girls were found as babies in the forest, each with a trillium petal charm by her side. That may be why they have a powerful connection to nature.
In the first book, when Zee is almost swept down a churning mountain river, the girls discover that the petal charms can unleash magic. The magic transforms the girls into warriors and the mini'mals into big, strong animals—maxi'mals! Even though the triplets are overjoyed with their newfound power, they can't stop wondering who left them the precious charms and why . . .
What was the inspiration behind the book?
LAURA BROWN: The books were inspired by a family ski trip to Colorado/the Rocky Mountains. I don't ski as well as the rest of my family, and so I left them midday for gentler trails. As I was skiing down a catwalk, I came upon the most incredible stand of Douglas firs. It was warm and sunny—the perfect springtime skiing weather—and I stopped to admire the beauty of the mountain. I found myself thinking about a world within those trees. Who lived there? How did they live? What delights would nature provide? My imagination took over from there. When I got home and told Elly (my co-author) about my fantasy, she was just as excited as I was, and we built the characters and world from there.
ELLY KRAMER: Laura and I loved the idea of trying to create something together, coming off our successful collaboration on Corn & Peg. As she mentioned, she was very inspired to do something involving nature, and we both loved the idea of trying to instill a love and concern for nature in our readers.
I've always loved the idea of creating something around families and, as someone with a sister myself, have always been drawn to stories around sisters, specifically. There's nothing like having a sister! The love, the friendship—and nobody can drive you crazy like your sister can! From there, Laura and I thought about the tropes that we loved as young girls—magic, mystery, and adorable pets, and the idea evolved from there.
What was your favorite book growing up?
LB: It's hard to pick one! Here are some I remember fondly from different stages in my childhood: Pickle-Chiffon Pie, the Mrs. Piggle-Wiggle books, the Amelia Bedelia books, A Wrinkle in Time, Lord of the Flies, and Gone with the Wind.
EK: I was a HUGELY voracious reader growing up. I used to hide my books in my desk and read during class. Some favorites: Amelia Bedelia, Sweet Pickles, The Baby-sitters Club, Nancy Drew, Sweet Valley High, and all of Judy Blume's books. (I wrote Ann M. Martin a letter once and she wrote me back! I probably still have that letter saved.) Oh, and Alexander and the Terrible, Horrible, No Good, Very Bad Day. I still read that when necessary.
What is a favorite book memory from childhood?
LB: My dad would read with me at night and act out the voices. We loved to make up songs that we'd add to the stories. My mom would read books aloud that were too hard for me and help me understand them. I made a library out of my books—with borrowing cards in the backs of them—and made my friends sign them out.
EK: I used to go to the library every Friday afternoon with my friends—it became a weekly ritual where we would go to the library and then to TCBY for their parfaits. The librarian, Mr. Daniels, used to save the new books for me. I distinctly remember him handing me a fresh pile of the newest Baby-sitters Club, Sweet Valley High, etc. I was the first to check them out and there is NOTHING better than a freshly new, never-used book.
What book from your childhood changed your life? Adulthood?
LB: I loved the world of Oz created in the Oz book series. I don't think I ever really got over it. I still read to be transported to another world and imagine what life is like there.
 Bad Guys Don't Have Birthdays (and all of Vivian Gussin Paley's books) was eye-opening in graduate school. Her books provide such an authentic window into young children's imaginations.
EK: I was already in high school when it came out, so I don't know if I was technically a child, but Harry Potter was and continues to be everything. I'm in awe of the worlds that J.K. created, the complexity of her characters and their relationships. It's a series I love rereading (and if it comes up, I'm a Hufflepuff).
 Pre-Wild, Cheryl Strayed published a book called Tiny Beautiful Things and it's something I've gone back to time and time again. It's a compilation of questions and answers from her time as an advice columnist. It's sharp, funny, and so smart.
Name three of your favorite authors/children's book authors of all time.
LB: Dr. Seuss, Lemony Snicket, Mo Willems.
EK: J.K. Rowling, Mo Willems, Donna Tartt.
What book(s) have you most wanted to read, but haven't yet?
LB: Last Child in the Woods and Born a Crime.
EK: The Book of Delights and Maybe You Should Talk to Someone. I also love interior design books and can't wait to dig into one called Live Beautiful.
 If you could have a magical talent (i.e., becoming invisible or the ability to fly), what would it be?
LB: I'd be able to talk to animals and trees. There's wisdom to be had there, I am sure.
EK: To erase people's pain.
What is your favorite food?
LB: Chocolate layer cake with chocolate fudge filling, buttercream icing and blue roses. I eat it every year on my birthday. I used to keep some in the freezer, but my kids ended up eating it so I gave that up.
EK: I'm a New Yorker—pizza and bagels!
What food did you hate growing up but came to love in adulthood?
LB: Broccoli. I choked on it as a child at Thanksgiving, which was scary, but it's a favorite now. I make a mean broccoli soup.
EK: I don't remember hating it as a kid, but as an adult I now eat fish and grapefruit, two things I didn't eat when I was younger. And I'm loath to admit it, but there are certain things now that taste too sweet to me (like Frappuccinos).
Who was your hero growing up? Who is it now?
LB: My choir teacher was not only my hero, but a hero to many of his students. Here's an article about him by a former student.
 And now? It may be sappy, but my husband is the kindest man I know and is my hero.
EK: It may be trite, but my parents are my everything. They are the most selfless, giving individuals I know who have instilled in my siblings and me a sense of morals and values that, as an adult, I so appreciate. And they have held me in every way, whenever I have needed it. They continue to be my heroes, but I am also continuously in awe of those who stand up for the disenfranchised and give of themselves selflessly. Malala and Ruth Bader Ginsburg are two who come to mind specifically.
About Laura Brown
Laura Brown is an early childhood expert and collaborates with businesses and organizations to create high-quality educational media properties and products. She has written curricula and scripts and served as Content Expert and Research Director for series produced by Nick Jr., Disney Junior, Amazon Kids, DreamWorks Animation Television, PBS KIDS, Universal Kids, and many others. A mother of three, she lives in Tenafly, NJ, but in another life, she would happily live in a tree house in the forest.
About Elly Kramer
Elly Kramer is currently the VP at Imagine Entertainment in their Kids and Family division and has created and led the development of numerous award-winning and highly rated TV shows, online games, and innovative apps. As VP of Production and Development with Nickelodeon, she led the development of long- and short-form content. She has also produced and developed over thirty-five shorts. Elly is a frequent speaker at film festivals and industry events. She lives in Los Angeles, CA.