Mark Shulman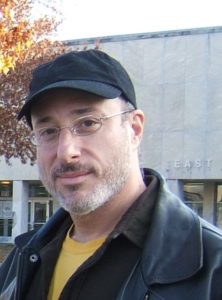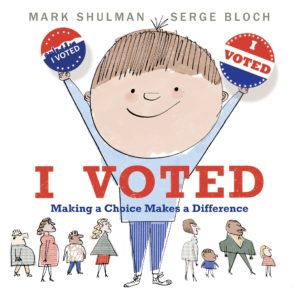 Holiday House sat down with Mark Shulman to talk about his new picture book, I Voted: Making a Choice Makes a Difference, illustrated by Serge Bloch.
Please give us a one-paragraph synopsis of your book.
Our elected leaders go a long way toward shaping the world we live in. But who chooses these leaders? Rarely do more than 50% of eligible citizens vote. Why don't more people understand the value and the power of voting? The mission of this book is to impress on younger readers—and their adults—the importance of making themselves heard. People always want to make a choice, and voting is one choice that can make a tremendous difference.
What was the inspiration behind the book?
In a recent national election, I woke up to discover just how few people had chosen to vote. So many people believed their vote didn't matter, even after major elections have been decided by very few votes. That's when I decided that we weren't teaching our children how much each voice matters. I thought that somebody needs to explain why this is important to children, so they grow up to be involved. And then I realized, as a writer of dozens of nonfiction children's books, that person might actually be me.
What was your favorite book growing up?
In order of appearance:
Seuss's Sleep Book
Mad magazine paperbacks (various)
The Mad Scientists' Club by Bertrand Brinley
My Side of the Mountain by Jean Craighead George
The Thurber Carnival by James Thurber
The Sherlock Holmes books by Arthur Conan Doyle
What is a favorite book memory from childhood?
One summer when I was about 10, my father found a huge old 1960s Lincoln Continental for sale and bought it to give my older sister. She lived out of town, so this massive hulk sat in our backyard for weeks. It being summer, I made that car my personal reading room. I probably read half of the Hardy Boys books sitting back there, after I finished another series you may have never heard of by the same "author," the Ted Scott Flying Adventures. 
Did/do you have any pets? If so, which one was/is your favorite?
I had a number of goldfish, but it soon became clear that I shouldn't.
Name three of your favorite authors/children's book authors of all time.
James Thurber, Mark Twain, Amy Krouse Rosenthal
What book(s) have you most wanted to read, but haven't yet?
Harry Potter and The Cursed Child. Really want to read that.
What book from your childhood changed your life? Adulthood?
Childhood: The Thurber Carnival by James Thurber (I learned humor and how to love drawing badly.)
Teenhood: The Sherlock Holmes books by Arthur Conan Doyle (I learned to think better.)
Adulthood: Here Is New York by E. B. White (I learned to write better.)
Who is your favorite children's book character and why?
Stanley Yelnats. He learns, but in a way, I get it. 
If you could live in any book, which would it be?
Not Holes. Possibly Dr. Seuss's Sleep Book. I sure wanted to climb into those great cars he drew.
If you could have a magical talent (i.e., becoming invisible, or having the ability to fly), what would it be?
The ability to remember everything, but also to control it so I didn't get overwhelmed.
What is your favorite food?
Barbecued anything—even sneakers—so long as it's slow cooked over hickory.
Has it changed since childhood?
I only wanted carbs. I've now expanded to carbs and proteins.
What food did you hate growing up but came to love in adulthood?
Salad.
Who was your hero growing up? Who is it now?
I liked fictional detectives. Problem solvers. Answer men. Experts. Probably Sherlock Holmes. Now it's both of my sons. They're teens, and they're each frankly amazing people. I never stop appreciating and learning from them.
About Mark Shulman
Mark Shulman has been a camp counselor, a radio announcer, a maître d' in a fancy restaurant, a New York City tour guide, and a creative advertising guy. He's written many books about many things: sharks, storms, robots, palindromes, voting, gorillas, dodo birds, Star Wars, Alexander Hamilton, Ben Franklin (twice), how to hide stuff, how to voodoo your enemies, and how to make a video from start to finish. He's written picture books for Oscar de la Hoya (the boxer) and Shamu (the whale). Mark is from Rochester and Buffalo, New York, but he has lived in New York City for so very long that he always knows which subway you should take, even if you don't need one. His school visits are legendary, educational, and funny. Sometimes kids try to follow him home. This is not advisable, since he already has two.
However, you can always find him at MarkShulman.info.