Patricia Reilly Giff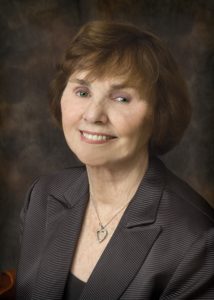 Holiday House recently sat down with two-time Newbery Honor author Patricia Reilly Giff to discuss her new illustrated chapter book series, Mysteries on Zoo Lane.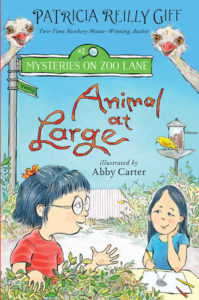 Mysteries on Zoo Lane is a charming series about conservation, animal care, friendship, and problem-solving. What inspired you to use this setting to tell these stories?
I've always loved animals and want children to experience that same joy. I remember watching my mother pin pieces of bread on the line with clothespins because snow was coming and she wanted the birds to be able to reach food. And then she took me to the zoo for the first time. What a thrill to see a tiger, to hear a lion roar.
What kind of research did you do in order to be in touch with the programs and initiatives that today's zoos are undertaking?
Now my house has a pond in back. We see possum, raccoon. Deer come for a drink and birds swoop down for a nibble. I think of capturing the world of wild life, making sure they have what they need. And certainly, that's what zoos are doing.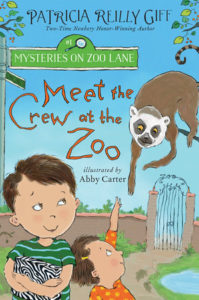 How is this series different from your other early chapter books, The Kids of the Polk Street School, and the Hunter Moran books for older readers?
This series is different from the others because in a way, animals have a starring role, and perhaps the reading itself is a little easier.
What do you hope children learn from the Mysteries on Zoo Lane series?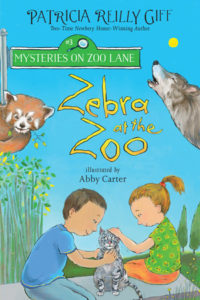 I never think about teaching when I write, but I hope readers will come away with a respect for animals and seeing the different ones that zoos offer. I did love writing about them.
About the Author
Patricia Reilly Giff is the author of many acclaimed books for children, including two Newbery Honors, for Lily's Crossing, also a Boston Globe-Horn Book Honor Book, and Pictures of Hollis Woods. Her other middle grade novels include Genevieve's War, winner of the Christopher Award; Nory Ryan's Song, an ALA Notable Book; A Slip of a Girl, which received two starred reviews; and the Hunter Moran books. Her Kids of the Polk Street School series remain a popular chapter book mainstay. Patricia spent twenty years teaching in New York City public schools. She lives in Connecticut near her beloved family.