Roberta Angaramo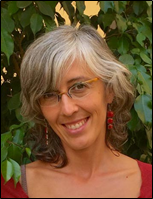 Holiday House recently sat down with illustrator Roberta Angaramo to discuss her new picture book, Smile, Breathe and Go Slowly.
What was the inspiration behind the book? 
I'm very fond of sloths and I came up with this character. I sent some sketches and roughs to my friend Chiara Carminati, and talking with her we came up with this story for Slumby. At that time I was reading a Thich Nhat Hanh book.
What makes this book special to you?  What impression do you hope it will leave with young readers?
The message for children and parents: "Smile, breathe and go slowly." We all need positive thoughts when we grow up. Love, children, and nature need time to grow up!
What inspired you to write/illustrate, and when did you know you would become an author/illustrator?
Animals, art, wild places, happy people, weird and magical facts, serendipity. When I was six years old I wrote: "When I grow up I'll be an artist!" Art and animals were already my passion!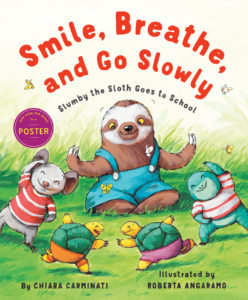 What is your favorite memory from childhood? 
Riding goats with friends and sitting on the grass eating sandwiches!
Did/do you have any pets? If so, which one was/is your favorite?
Cats and dogs!
Name three of your favorite authors/children's book authors of all time.
Gianni Rodari, Roald Dahl, Hans Christian Andersen
What book from your childhood changed your life? Adulthood?
Jonathan Livingston Seagull, Richard Bach
Who is your favorite children's book character and why?
Heidi of Johanna Spyri—because my childhood sometimes was very similar to hers!
If you could have a magical talent, what would it be?
To FLY!
What is your favorite food?
Gnocchi with cream (special kind of hand-made pasta with potatoes and flour)
Who was your hero growing up?  Who is it now?
Lady Oscar, and now Yogananda
About Roberta Angaramo
Roberta Angaramo is an award-winning picture-book illustrator who is published worldwide. Her awards include first prize in the UNICEF International Contest. Her books for Holiday House are Dog in Boots by Greg Gormley and A Perfect Home for a Family by David L. Harrison. She lives in Italy in the province of Cuneo, with her husband Daniele Cazzato and their two cats.