Stephen Savage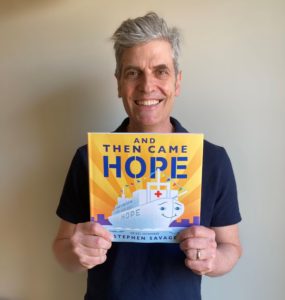 Holiday House sat down with award-winning author Stephen Savage to talk about his picture book, And Then Came Hope.
 And Then Came Hope is based on the true story of the SS HOPE hospital ship. What inspired you to write a children's book about this?
It was the sight of the hospital ship USNS Comfort triumphantly sailing into New York harbor in April 2020 that inspired me. The city was in the throes of the Covid-19 pandemic and the ship, true to its name, brought comfort. I did a little research that night and came across another hospital ship from the 1960s called SS HOPE. That's when I knew I had my ship and my book!
What would you like children and their caregivers to learn from this story?
The story reminds us of the power of HOPE. We can't live without it. We also can't live without doctors and nurses and other medical professionals. So put your trust in them. They're superheroes!
Your style is very distinct—did you use digital or traditional techniques for this book?
I use Adobe Photoshop paired with Adobe Illustrator. I love travel posters from the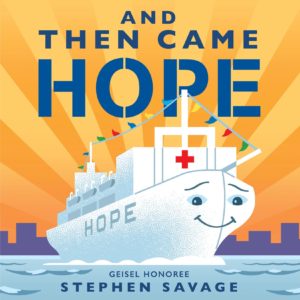 1930s and 40s and find that those tools are great for giving me the flat color and smooth gradations in those posters.

How does your work for magazines differ from creating your children's books?
It's two very different audiences, but the "style" is essentially the same.
You teach at the School of Visual Arts in Manhattan. What advice do you give your students who want a career illustrating children's books?
I tell students it's all about story. Story guides all of your choices, from the color of the sky to the wave pattern in the ocean, to the design of the ships in the harbor. Your aesthetic choices serve the story.
Lightning-round Questions
What was your favorite book growing up?
The Whales Go By by Fred Phleger
What is your favorite memory from childhood?
Swimming in the ocean!
Do you have any pets? If so, which one is your favorite? 
I grew up with cats but met and married a woman who loves dogs. Our little guys are terrier mixes named Rudy and Henry.
Name three of your favorite authors/children's book authors of all time.
Crockett Johnson, Lois Lenski, Feodor Rojankovsky
What book have you most wanted to read, but haven't yet?
Catcher in the Rye (How did I miss that one?)
What book from your childhood changed your life? Adulthood?
Calder's Universe (a biography on the artist)
Who is your favorite children's book character and why?
Babar, cuz he's so gentle and sweet.
If you could live in any book, which would it be?
Harold and the Purple Crayon by Crockett Johnson. In a way that is the world I live in. I get to draw pictures and then step into them.
If you could have a magical talent what would it be?
Flying!
What is your favorite food?
Mac 'n' Cheese is my all-time fave.
What food did you hate growing up but came to love in adulthood?
Asparagus!
Who was your hero growing up?
Alexander Calder, my older brother Kirk
Who is it now?
Kirk's still my hero.
About Stephen Savage
Stephen Savage is an award-winning children's book author and illustrator whose accolades include a Children's Choice Book Award finalist (The Babysitter from Another Planet), a New York Times Best Illustrated Book (Polar Bear Night), and a Geisel Honor (Supertruck). His other popular books about vehicles include Little Tug, The Mixed-Up Truck, and Little Plane Learns to Write. His newest picture book is And Then Came Hope. Stephen teaches at the School of Visual Arts and lives in Brooklyn, New York.