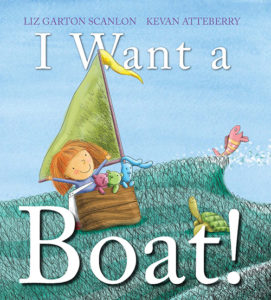 Buy the Hardcover at:
Bookshop
IndieBound
Barnes & Noble
Amazon
Also Available:
eBook

isbn: 9780823450619
June 22, 2021 | $

11.99
I Want a Boat!
Illustrator(s):
Kevan Atteberry
Published by
Neal Porter Books
Hardcover
|
Pages:
32
Size:
9 x 10 |
USD:
$
18.99
ISBN:
9780823447152
Publication Date:
June 22, 2021
Age:
4-6
Themes:
Friendship
,
Social Themes
,
Transportation
About the Book
A box is never just a box when you have a vivid imagination and a couple stuffed animal friends to join you on a fantastic ocean voyage.
I have a box,
I want a boat.
With nothing but spare text and a bright imagination, I Want a Boat! follows a girl as she as she finds a way to transform a plain old box in an ordinary room into a magical sailboat, complete with a rudder, sail, and anchor. She and her stuffed-animal friends take to the high seas, encounter raging storms, and make it to dry land, just in time for supper.
Award-winning author Liz Garton Scanlon's spritely text and candy-colored, kid friendly illustrations by Kevan Atteberry (Ghost Cat, Dear Beast) make this a perfect read-aloud for the youngest child.