Black Sand Beach #1.5: Tales from Black Sand Beach: 13 CHILLING STORIES
A spooky short story collection about the creepy happenings at a haunted beach town. A companion to Richard Fairgray's middle grade graphic novel series, Black Sand Beach.

A stolen heart. Blood dripping from your open mouth while you sleep. A game of peekaboo that's anything but adorable. A face watching your every move as you furiously dig to save it.

The eerie and unsettling weave together in thirteen short stories based on the Tales from Black Sand Beach podcasts written and produced by Richard Fairgray, about the inexplicable happenings in a haunted beach town. This collection is a companion to the middle grade graphic novel series, Black Sand Beach, and each story features a full-page black and white illustration.

From the Introduction of Tales from Black Sand Beach: 13 Chilling Stories

If you find a map that's old enough, you'll see a strange word where you expect a place to be. That word is Finisterre. It means "end of the Earth" and it was used by explorers to show the edges of the world as we knew them. As time went on and maps joined up, we stopped marking the edges because we stopped thinking there were any. Maybe that's because the edges that remain aren't between one place and another but between shadows and light, between monsters and ideas? Black Sand Beach was a town on the edge. . . .

Ghost stories are funny, they get whispered by children and written down by adults. Everyone knows which parts are true and everyone disagrees on which parts are made up. But isn't all truth just layers of story that we repeat enough times? What follows is a collection of tales from Black Sand Beach, from before the sand shifted and buried the whole place.

- Richard Fairgray

I so want to read this book. Don't you?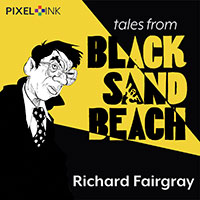 Connect with creator Richard Fairgray!


Instagram

Twitter

Facebook

Website
| | |
| --- | --- |
| Ages | 8-12 |
| Publication Date | February 02, 2021 |
| | |
| --- | --- |
| eBook | ISBN 9781645950745, $9.99 |