David Fremont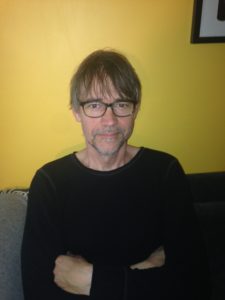 Pixel+Ink sat down with David Fremont to talk about his series Carlton Crumple Creature Catcher. The series focuses on a determined monster hunter battling mad-cap monsters in this hilarious hi-lo graphic novel series that fans of Lunch Lady and Dog Man will love gobbling down.
What is your earliest recollection of drawing/wanting to become an artist?
I'm the youngest of five. I grew up with three older sisters and one older brother in Fremont, California. My parents picked a town that was the same as our last name so my dad could start a business called Fremont's Carpet Cleaning. Mom worked as a teacher's aide, and then later became a copywriter for Mervyn's department store. She also painted in her spare time and encouraged creativity in the family. I'll never forget the smell of oil paint at the little art store we shopped at.
My mom encouraged all of us kids to enter a local art show. I drew a picture of a boy flying a kite called "Kenny and His Kite." I loved the Peanuts comics, so I think I wanted him to look like Charlie Brown. I can't recall what my sisters made for the show, but my brother's picture was a giant aircraft that you could see inside; the pilot had stacks of missiles and even a secret place to sleep! I wished I had come up with something like that instead of just a kid with a kite.
My brother Mark won an Honorable Mention ribbon, and all three of my sisters won various prize ribbons as well. My picture didn't win anything and I was devastated. From that day forward I became obsessed with wanting to be a good drawer.
My dad would give my brother and me white notepads from his office and ballpoint pens that said Fremont's Carpet Cleaning on the side. We would make adventure stories. I would have to beg Mark to let me read his stories about two friends named Bouncing Boy Barney and Rolling Ralph. One thing I loved about his comic stories was that he made previews of coming attractions at the end!
My brother started taking piano lessons and grew disinterested in drawing and, even though I would beg him to draw comics, it seemed music was his path.
What were some of your early inspirations for drawing?
I loved drawing while watching cartoons on TV. Some of my favorites were Spider-Man, Jonny Quest, H.R. Pufnstuf, Lidsville, The Banana Splits, Looney Tunes, Underdog, George of the Jungle, Tennessee Tuxedo, and Rocky and Jay Ward.
I particularly loved the drawing style and humor of the Jay Ward cartoons, which included Rocky and Bullwinkle, Tooter Turtle and Fractured Fairy Tales. Mark and I would wake up early every Saturday morning (that's when most of the cartoons came on TV) to watch cartoons.
We would eat bowls of sugar cereal like Cap'n Crunch and Super Sugar Crisp. I remember watching cartoons until twelve noon (that's when the football games came on), then I would go outside and play.
I could never understand why I always felt a little dizzy and had a headache, but now I realize it was from too much TV and sugar cereal!
I also loved monster movies. On Saturday night there was show called Creature Features with this host named Bob Wilkins. He had big glasses and sat in a huge chair while he smoked cigars and introduced the movies. The first one I saw was called The Horror of Party Beach about a sea monster. I hid behind a chair as I watched.
Thinking back now, it was probably what inspired Catch the Munchies, although my monsters are from a lake and love to eat fast food!
Sometimes I would create these long adventures in my room with my stuffed animals. I would even draw a cast of characters for the ending, just like the movies I watched. One time while visiting my relatives, my cousin Steve showed me a comic he made inspired by the movie Jaws called The Great White Shark. It was the coolest thing I had ever seen and all I wanted to do was make comics like that, so most of my comic stories were basically takeoffs of my favorite movies I had seen like Westworld, The Poseidon Adventure, King Kong vs. Godzilla, and later, Star Wars. The hero of my comics was always a version of the same guy: he had a black beard and his name was Ben. He looked nothing like Carlton Crumple!
Along with making adventure comics, I also liked to draw comic strips like the ones in the paper. My favorites were Beetle Bailey, The Wizard of Id, Tumbleweeds, and one called Figments. My first comic strip was called Freddy the Frog. Freddy's friend was Buzzy the Bee; the gag was that Freddy eats Buzzy and then he says, "I'm buzzy Freddy!"
I was also a big Mad Magazine reader and wanted to grow up and make comics for them.
In middle school, my mom enrolled me in cartooning classes, where I got to create my own comics. The teacher was a long-haired hippie guy who very cool; he made a big compilation book of all the student's comics. When I got into high school, I started reading comics by French artist Moebius. His work was amazing. I wanted to create my own ongoing comic adventure story, so I came up with a character called Philo Fixer: Weasel from Mars. He was a wise-guy spy in space.
I joined the newspaper staff and made single-panel comics. Then in junior college, I joined the paper there and created a comic strip called The Geebersons, about a crazy family. I also made political cartoons and ended up winning a few national journalism awards. I finally got my ribbon!
My mom told me about a special class that only a few people would be accepted into, being taught by a famous artist named B. Kliban (he was famous for cat calendars and books like Never Eat Anything Bigger Than Your Head). I drew a bunch of funny characters and sent them off. Lo and behold, I got accepted into his course. I was over the moon, I couldn't believe it!
The class was great and he reviewed all our work. He told me, "Your stuff is ready to start being published."
I then became obsessed with getting published somehow, but that wouldn't come until much later when I moved to San Francisco. I was working on the freeway doing lane closures (you know, the guys with orange vests and pylons? That was me). It was insane and very dangerous. I also got a job as a scooter messenger in San Francisco but that was also dangerous, so I got work at an art supply store. It was a lot of fun working with other struggling artists.
I started reading a lot of underground comix from Fantagraphics and Raw magazine. I loved artists like Gary Panter (Pee-Wee's Playhouse), Lloyd Dangle, Charles Burns, and Kaz. I sent a lot of my comics to Fantagraphics but they were rejected. I later started a band called Pupcage and did all the flyer art.
My artist friend Eric White, who I worked with at FLAX Art Supply, introduced me to Bart Nagel, the art director at a magazine called Mondo 2000. I pitched him a weird comic strip idea called Spidereggs, which he liked and wanted to run every month.
Around the same time, Eric and I would watch this show called Liquid Television on MTV. We noticed they made the show at a studio in San Francisco called Colossal, and we decided we had to work there.
Eventually, we both got jobs as cell painters. I went on to work on the Liquid Television show as a production artist and learned to do stop-motion cutouts with director Jimbo Matison. I learned a lot form his low-budget cardboard approach to making animation. I went on to design Colossal's employee handbook, which got the attention of various hotshot directors there. One of them asked me to design characters for a George Thorogood video called "Get a Haircut." That led to getting to design fun projects including creating an interactive webtoon for CartoonNetwork.com called Germ Town, a microscopic world.
Another big job I did there was a design all the channel ID characters for Zoo Disney.
After Colossal closed down, I worked as a freelance illustrator for magazines, and created an album cover and various rock posters for ArtRock, including Beck and Smashing Pumpkins.
A bit later, the dot-com wave hit San Francisco and everyone was trying to make web cartoons. Some friends from Colossal started an animation studio called WildBrain. They called me to see if I had any ideas for animated web series, so I pitched them this odd little comic I had called Glue. We ended up making twenty-four episodes.
At the same time, I was developing a show with Amy Jackson, an executive at Nickelodeon. That was when I got asked to be on a panel at Comic-Con with Jhonen Vasquez and Keith Knight, cartoonists who were also developing pilots. Nick flew me out and put me up in a hotel; it was a lot of fun. The pilot idea, called Shrimpton O'Small, eventually got killed by some higher-ups at Nickelodeon. Then the dot-com crash happened, so we moved to LA so I could pursue animation here. It was hard getting work here—the small fish in a big pond thing—so I did some temp jobs that were absolutely awful.
One was breaking old windows into a bin and another was loading giant boxes onto a truck. But I kept developing ideas and pitched Mary Harrington an idea called Kung Fu Spy Troll. She loved it and gave me a development deal. The pilot got made, but ended up not going to series, which was pretty devastating.
I got a few more development deals later with Nick and Cartoon Network, but those got cut short as well. I had a period of being a stay-at-home dad because my daughter had just been born. Luckily my wife, Carol, had a steady job in advertising!
In that time period I decided to try and write some children's books on the suggestion of our friend James Proimos, a children's book writer who was renting our in-law suite. I illustrated a story for him called "The Grade School Zone," which was part of a compilation of stories for a book called Tripping Over the Lunch Lady, published by Dial Books for Young Readers.
Tell us about how your first book came about.
I got my first idea for a book while at the beach watching a little kid eating fast food. I wondered what would happen if he threw a french fry into the ocean and a sea creature ate it. The book just kind of rolled out. I sketched and wrote the whole thing in a few days.
The hero is a goofy fast-food worker named Carlton (named after Carlton the doorman from the 70s TV show Rhoda). I wanted a strong female character so I came up with his best pal Lulu. Her personality is smart and sarcastic, patterned a bit after April on Parks and Recreation. I love funny little animals like Snoopy and Woodstock so I came up with Poof-Poof the poodle and Iggy the iguana. I was a Dead Head in high school, so I thought it would be fun to throw some hippies into the mix. I also added in a backstory and wrote about how Carlton became a creature catcher.
I wrote a few more books, one called Comix Camp, one called Follow the Sunbeams, and another called Waterpipe '77, all coming-of-age comic adventures. I also decided to start teaching art classes after school with an after-school enrichment company. The classes included cartooning and comic book creation. I loved working with kids; it reminded me of taking cartooning classes as a kid.
During that period I got a call from Birk Rawlings, an exec I worked with at Nickelodeon, who was heading up a new online channel at DreamWorks TV. I pitched him a comic idea called Public Pool, something I created while watching my kids and their friends swim in our pool. That launched into a twelve-episode series. The budgets were low so I called my pal Jimbo Matison to help with the animation. My friends, family, and I did all the voices.
After that I did another show with DTV called Moaties, about a frog and a fish who live in a moat around a castle. Their goal was to get into a party at the castle. All my shows generated over a million views.
My next project was this book. My producer friend Mary Harrington suggested I send some book ideas to her friend Kyra Reppen, whom she used to work with at Nickelodeon. So, Get the Munchies was the first thing I sent. Then I got an email from Bethany Buck, the editor in chief of Pixel+Ink, saying they loved the book. I couldn't believe it when she told me they also wanted it to be a series! It's been a dream come true and I am so grateful for all who believed in this project. We changed the title from Get the Munchies to Catch the Munchies and made some minor story changes. I called on my friend Jimbo again, this time to do the color.
So far it has been a blast working with Pixel+Ink and fun working with Bethany Buck. I feel she really gets my humor. Book 2, Tater Invaders!, and Book 3 of the series, Reptoids from Space, are published. This one includes a fake UFO sighting followed by a real UFO abduction. It's up to Carlton to save the day in this latest installment of the Carlton Crumple Creature Catcher series!