Holiday House Resources to Learn Remotely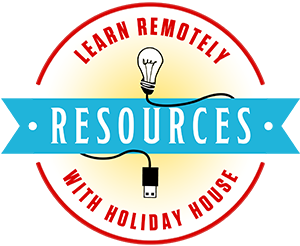 Holiday House is here to help with your new day-to-days. We are committed to doing everything we can to help educators, librarians, booksellers, parents—and most importantly children, cope with the extraordinary situation we find ourselves in.
This page pulls all our resources together in one place. We'll be adding more items here as quickly as we can, so please check back as often as you can.
We encourage you to follow us on Instagram and our other social platforms as we will will be sharing more and more content each day, including new author videos and more. We would love if you would tag us on any platform you use so that we can repost your efforts. * Twitter * Facebook @HolidayHouseBks
Reproducible Activities and Lesson Plans
For Teachers and Librarians
We have close to 300 guides, lesson plans, and activity sheets for you to share virtually with your educator and librarian colleagues, parents, children, and other library patrons to help supplement the resources you already have. Here is your go-to resource.
For Booksellers
We have a number of story time kits and activity pages that are perfect for any virtual story hours that you are hosting. You're welcome to share this content with your customers through your e-newsletters and feel free to link to our Holiday House site.
For your teacher customers who are turning to you for assistance, please offer to share our resources with them.
For Parents
We know your children are at home, and you're in need of resources to help keep them learning and occupied. Please visit our activity pages and feel free to share our resources with your children's teachers.
E-books
Here is a complete list of Holiday House e-books, available from your local library through Overdrive and others, Epic!, Amazon, and lots more.
Holiday House Special Sites
I Like to Read Books® for emerging readers, levels A–G
This features reproducible flash cards for more than 75 books, plus easy-to-follow lesson plans, guided reading levels, and more. You'll find just what you need for every new reader in your life.
Explore the World of Gail Gibbons
Find a 16-page Educator's Guide aligned to the Next Generation Science Standards which is chock full of activities. Search for more than 65 Gail Gibbons books by more than a dozen subjects and all four of the NGSS domains—Physical Science, Life Science, Earth and Space Science, Engineering.
TLA Virtual 2020 Conference—Holiday House Booth
While we certainly miss seeing your smiling faces in person during this difficult time, we are so pleased to be able to share with you some of the books, author interviews, and downloadable resources that we had prepared for this year's conference. Whether you are looking for upcoming titles to add to your libraries, searching for supplemental resources or thematic title groupings, or excited to watch behind-the-scenes videos from our authors or illustrators, our booth has something special for you.
Kick off the School Year
Back to school is exciting for students and educators alike! Whether you're together in person, remotely, or somewhere in between, we have books to engage and enlighten readers from concepts to social emotional learning to STEM. We invite you to get started and kick off the new school year!
Author Resources
So many of our authors and illustrators are eager to help!
We have developed a new resource page of artists who have created videos and more. Several are offering complimentary virtual school visits during this time. Check back often. We're receiving new materials daily.
Holiday House Guidelines to Creating Read-Alouds
We are thrilled for you to share our books with young readers, but we do need your help to protect our creators' copyrights. We can permit the creation of virtual read-alouds at no charge within a closed platform for non-commercial use only, and as long as the video is removed after a limited time (30 days), and you acknowledge the author/artist and Holiday House. We cannot grant permission for these videos to be posted publicly, including on YouTube, unless the link is unlisted.
Holiday House Terms:
At the beginning of your video, please state that you are reading "with permission from Holiday House Publishing."
Post your reading within a closed platform or group for your members only, not for commercial use.
Please delete your video within thirty (30) days from date of posting.
To receive permission, please complete this form with your name, school or library, city and state, the title and author/illustrator of the book you will read online, and what platform you plan to host the reading on.
By posting a reading, you are agreeing to abide by the above terms and to receive emails from Holiday House about books and authors of interest.
We would also love to follow along with your read-aloud, so please tag us @HolidayHouseBks on social media in any posts affiliated with it!
Thank you!
Your friends at Holiday House