David L. Harrison, Jane Yolen, and Anjan Sarkar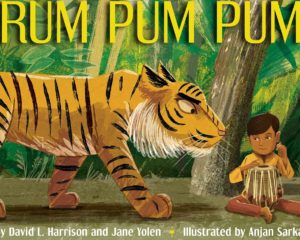 Holiday House sat down with cowriters David L. Harrison and Jane Yolen and illustrator Anjan Sarkar to talk about their new picture book, Rum Pum Pum.
You three sure keep busy. David and Jane, you have each written hundreds of works. Anjan, you have created artwork for more than twenty books in just five years. What do you do in your free time, assuming you have some?
David Harrison: My wife Sandy and I like to do things together. We spend several weeks each year in our condo in Florida. In normal times we travel to other places in the U.S. and abroad. I read for pleasure. Spend time outside, especially on our patio during the warm months. We eat out there, swim, watch the lake behind our house.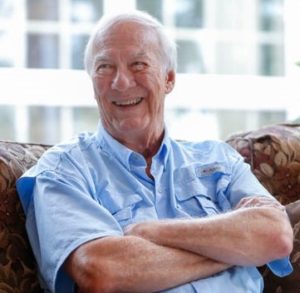 Jane Yolen: Well, my 400th book is coming out sometime in early 2121. And I have an unsold list as long as my arm, or longer. (I am a short woman!) Note, my first two books came out in 1963, so you can see that I am someone who loves to write.
Anjan Sarkar: Yes, the last five years has been pretty full on! I have two primary-school-aged kids, so I try to do as much with them as I can. I live in Sheffield, England which is surrounded by beautiful countryside, so I try to get out for long walks as often as possible.
David, not many people can claim that they have an elementary school named after them. What does that mean to you?
It gives me a sense of pride that's hard to describe. Driving up to the building, walking through the door, seeing kids wave at me and telling one another who I am, hearing students recite the school chant—fill me with wonder and gratitude every time.
Jane, all three of your children have written children's books. Have you ever written anything with them?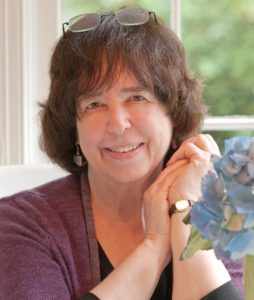 I have written more than twenty books with each child, and one book the entire family wrote together. The rest they have done on their own. Jason is concentrating on his photography; Adam is mostly writing dark fantasy for adults. And Heidi is a picture book and early reader writer. Heidi's daughter Maddison and I are doing a picture book together. Ada's daughter Ari and I are also working on a picture book. We will see about the others.
Anjan, is it true your children helped you create your "wonky and slightly misshapen" style of illustration?
We have done lots of drawing together over the years and I have found it really inspiring to see how they interpret shapes and translate figurative stuff into drawings. I have never been a very precise drawer and I am most happy doing simple illustrations that offer some immediate visual satisfaction, so entertaining them with my silly doodles has been great motivation/inspiration. I have also spent lots of time in the children's libraries in Sheffield, choosing picture books to read to them. It's been fascinating (and completely unpredictable) to see which books they like and dislike.
How did the collaboration for your new book, Rum, Pum Pum, come about?
Jane Yolen: David Harrison and I had been good friends and colleagues for several years. We played with words, poems. And one day he mentioned a story his son had always wanted him to write about a lonely tiger and we went back and forth until it was clear it was a story we were writing together.
David Harrison: Now and then Jane and I will get on a roll over something that comes up on my blog. We're both fast and it's fun to fire off a few poetic exchanges, like finger exercises for the imagination. Then we go on with our day. But the morning we got started on the tiger exchanges felt different. It had a beginning and it seemed headed somewhere. We had to see where that might be.
Anjan Sarkar: Tom, from my illustration agency (Good Illustration), presented my work to Grace Maccarone at some point in early 2018. Grace then got in touch with the text for Rum Pum Pum and made an offer to illustrate the book.
In Rum Pum Pum, an unlikely friendship forms between jungle animals using the universal language of music to communicate. David and Jane, what inspired you to write a book like this? Anjan, how did you come up with the animals' expressions?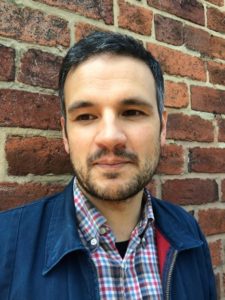 David Harrrison: Jane and I are both members of performing musical groups. I'm sure our poetry is informed by the rhythm in our "writing souls." A musical instrument (drum) became the agent of continuity throughout the story while at the same time adding its own lyrical voice. Jane got us started with a lonely tiger discovering the drum and heading along the road looking for friends. Everything flowed from that intriguing opening.
Jane Yolen: David has a wonderful blog where he posts every day—sometimes poetry, sometimes stuff about his books. I read it religiously. One day he mentioned that the one book he had never gotten to was a book about a lonely tiger that his little son (now a grown man!) had wanted him to write. He posted a possible first line and I wrote a second and we were off to the races. Then as it began to take shape, we took it off-line, in part not to give everything away, in part because we were both so energized, the words, the story was just falling upon us. I bet David has a slightly different version of the way things began because we are both writers, aka liars. We spend our days making things up!
Anjan Sarkar: I have been doing lots of illustration over the last few years in which facial expressions and body language are important. I use the Photo Booth app on my computer to take photos of myself pulling the right expression, so my computer is now full of these strange photos. I hope no one steals my laptop! I have also found that sometimes I actually pull the expression while I'm trying to draw it. It's a great challenge and I feel like my acting skills have improved a lot in the last few years!
With so much division happening in the world right now, what do you think your book can teach children about getting along with people who may not be the same as them?
David Harrison: What brought the characters in our story together was discovering what they shared in common—their love for music. They were different in other ways. At times they quarreled. But in the end, they were more similar than different.
Jane Yolen: And they went along and went along and went along down the road. YES!
Anjan Sarkar: I think the book offers hope that we can be united by shared experiences. I really believe this. Art is a great shared experience—the animals are all captivated by the sound of the drum and the boy's music and storytelling. I think that in children's publishing at the moment a similar thing is happening: stories from different cultures are becoming more prominent and more valued. Instead of the division that is being promoted by certain people, children's books are promoting what we have in common and what we can gain from each other's company and culture.
Lighting-round questions:
Favorite book growing up?
DH: Bambi
JY: Alice in Wonderland, Howard Pyle's King Arthur, and Ferdinand
Favorite authors/children's book authors of all time?
DH: E. B. White, Kurt Vonnegut, Barbara Kingsolver
JY: Ursula K. Le Guin, Diana Wynne Jones, Maurice Sendak
Favorite children's book character and why?
DH: Charlotte, because there never was a better spokesperson for spiders than she.
JY: Alice, the original Speak Truth to Power little girl
Favorite food?
DH: Meat
JY: Dark chocolate . . . isn't it everybody's?
About  David L. Harrison
David L. Harrison is a writer of both poetry and prose for children, as well as a biologist. His work has won awards, including IRA/CBC Children's Choices, NCTE Notable Poetry Books, Bank Street College Best Books, and many state awards. He is the author of And the Bullfrogs Sing: A Life Cycle Begins, illustrated by Kate Cosgrove and published by Holiday House. David lives in Springfield, Missouri.
About Jane Yolen
Jane Yolen has won Nebula Awards, Christopher Medals, the Golden Kite Award, and the Jewish Book Award, among others. She is the author of Owl Moon, illustrated by John Schoenherr and the winner of the Caldecott medal, and the bestseller How Do Dinosaurs Say Goodnight?, illustrated by Mark Teague. Rum Pum Pum is her first book for Holiday House. She lives in western Massachusetts.
About Anjan Sarkar
Anjan Sarkar has created illustrations for advertising, fashion, mobile content, E-learning, and childrens books. Rum Pum Pum is his first book for Holiday House. He works from a studio in his house in Sheffield, England, where he lives with his wife and two children.