Elizabeth Zunon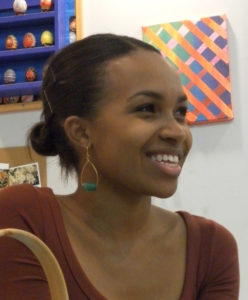 Holiday House sat down with Elizabeth Zunon to talk about Stitch by Stitch, her recently released picture book with Connie Schofield-Morrison.
Please give us a one-paragraph synopsis of your book.
This is a true story about an awe-inspiring woman who used her sewing skills and artistry to buy her own freedom out of slavery and create a place for herself, earning a living sewing dresses for the political elite, including Mary Todd Lincoln.
What was the inspiration behind the book?
Modiste/seamstress Elizabeth Hobbs Keckly.
What makes this book special to you? What impression do you hope it will leave with young readers?
This book is special to me because I identified with aspects of Keckly's life (being biracial, being a creative person, loving sewing and making things with our hands), and she inspired me to push myself as an artist to tell her story in a new and creative way. I hope the book leaves young readers with a desire to use their creativity to make a place for themselves in the world.
 What inspired you to write/illustrate, and when did you know you would become an author/illustrator?
The books my mother read to me as a child inspired me (especially The Snowy Day by Ezra Jack Keats), as well as watching Reading Rainbow on TV during summers spent with my American grandparents. I knew I would become an illustrator/author when I started studying picture books at the Rhode Island School of Design and fell in love with the process of telling visual stories.
About Elizabeth Zunon
Drawing and painting have always been among the most important things to illustrator Elizabeth Zunon. Born in Albany, NY, and raised in Côte d'Ivoire (Ivory Coast), West Africa, she cultivated a love of color and pattern, which are fixtures in her works today. After returning to the United States, Elizabeth earned a Bachelor of Fine Arts in 2006 from the Rhode Island School of Design. She is the illustrator of sixteen books, including, among others, The Boy Who Harnessed the Wind, A President from Hawai'i, The Legendary Miss Lena Horne, One Plastic Bag, Bedtime for Sweet Creatures and Grandpa Cacao: A Tale of Chocolate, from Farm to Family, which she also wrote. Elizabeth's art style employs drawing, oil paint, collage, screen-printing and embroidery.