Polly Horvath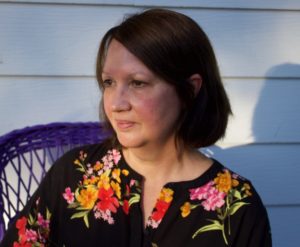 Photo credit: Emily Keller
Holiday House sat down with Polly Horvath to talk about her novel Pine Island Home.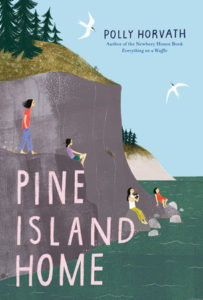 What was your inspiration behind writing this book?
I never have inspiration. I sit down to write and the book happens.
Please tell us about Pine Island Home.
When the McCready sisters' parents are washed away in a tsunami, their great-aunt Martha volunteers to have them live with her on her farm in British Columbia. But while they are traveling there, Martha dies unexpectedly, forcing Fiona, the eldest, to come up with a scheme to keep social services from separating the girls—a scheme that will only work if no one knows they are living on their own.
Does the fact that you live on an island influence the setting for the novel?
Yes, I set a lot of my novels on islands. I knew I felt settled on Vancouver Island when I stopped setting books in the U.S. Midwest where I'd grown up and set them on islands instead. A few years ago someone wrote to me with her master's thesis, which was a long paper about why I set my novels on islands. It had to do with man's sense of isolation and the modern dilemma of disconnection, etc. When she phoned to further explicate, I kept trying to interject with, "But you know I live on an island, right?" but she kept on about the loneliness of the individual in our fast-paced disenfranchised society, and I kept trying to break in with, "Yes, but you know I live on an island, don't you?" In the end, I think she had swung me round to her way of thinking.
Are any of the characters in the story inspired by your real life?
I think I am all the characters in my books. When you are writing, you inhabit them all, all the sympathetic ones anyway—ho ho ho. You can't really write convincingly about someone unless you write from within them for a time. Otherwise they just become caricature.
What makes this book special to you? What impression do you hope it will leave with young readers?
This is a cozy, old-fashioned read about the importance of the people in our lives, how they are "the boat" that keeps us afloat. Very appropriate in pandemic times.
What inspired you to write, and when did you know you would become an author?
I have written books since I was eight years old. My mother wrote picture books. I got my first agent when I was fourteen.
Lightning-round Questions
What is your favorite memory from childhood?
Summers at a boy's camp in northern Wisconsin where my father worked and my sister, friend, and I ran wild.
Do you have any pets?
We have a smooth collie named Laddie.
Three of your favorite authors of all time? 
Edward Eager, Louisa May Alcott, Roald Dahl
Book most wanted to read, but haven't yet? 
The Midnight Folk by John Masefield
Your favorite children's book character and why? 
Jo March from Little Women—she was a writer
If you could live in any book, which would it be? 
Magic by the Lake by Edward Eager
If you could have a magical talent, what would it be? 
Time travel
What is your favorite food? 
Pizza
Who was your hero growing up? Who is it now?
My father growing up, and my husband now