Buy the Hardcover at:
Bookshop
IndieBound
Barnes & Noble
Amazon
Also Available:
Paperback

isbn: 9781645950028
April 16, 2020 | $

12.99
eBook

isbn: 9781645950592
October 6, 2020 | $

10.99
Black Sand Beach #1: Are You Afraid of the Light?
Hardcover
|
Pages:
192
Size:
6 x 9 |
USD:
$
22.99
ISBN:
9781645950004
Publication Date:
April 16, 2020
Age:
8-12
Themes:
LibraryCon Graphic Novels
,
LibraryCon Middle School
,
SLJ DoD Graphic Novels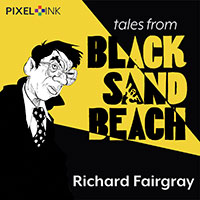 About the Book
Black Sand Beach is the can't-put-down middle-grade, graphic-novel series about a haunted summer vacation by Richard Fairgray, a bestselling and award-winning comic book and picture book author / illustrator.
In the first book, Are You Afraid of the Light?, twelve-year-old Dash and his best friend Lily are spending the summer at Back Sand Beach, where Dash's family has a house. But nothing is as it seems from the beginning. The beach house is a shack, and Dash's weird relatives are there. But more alarming is the zombie ram that crashes through the front yard. And the ghosts that call out to Dash from the lighthouse . . .
Each book in the dynamic series contains full-color, graphic-novel panels on every page and multiple connected stories.
BONUS MATERIALS


Educator's Guide
Extensive Educator's Guide with Discussion Questions and Activities Featuring Holiday House and Pixel+Ink Books
★★★THE REVIEWS ARE IN!★★★
"Creepy, bizarre, and compelling."
—Kirkus Reviews
"With a large cast and plenty of surprising developments, the book plants seeds for potential future story lines, even as layers of its mystery are peeled away to ensure immediate satisfaction. Funny and playful but also creepy and intriguing, Black Sand Beach: Are You Afraid of the Light? is an entertaining graphic novel that establishes a rich world of possibilities and impossibilities."
—Foreword Reviews
"Fairgray keeps the humor high to soften some genuine spookiness and crafts a cast that readers will want to follow into future volumes."
—Booklist
"Creepy fun tempered by plenty of silliness."
—School Library Journal
"I loved the humor and weirdness of it. . . . The characters are so confident in this world that you take comfort in how they saunter through it."
—A Fuse #8 Production