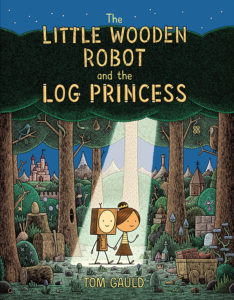 Buy the Hardcover at:
Bookshop
IndieBound
Barnes & Noble
Amazon
Also Available:
eBook

isbn: 9780823450671
August 24, 2021 | $

11.99
The Little Wooden Robot and the Log Princess
Published by
Neal Porter Books
Hardcover
|
Pages:
40
Size:
9 x 11 |
USD:
$
14.99
ISBN:
9780823446988 
Publication Date:
August 24, 2021
Age:
4-8
Themes:
Adventure
,
Comics & Graphic Novels
,
Fairy Tales & Fables
,
Fantasy
About the Book
In acclaimed graphic novelist Tom Gauld's first picture book for children, a little wooden robot goes on a quest to find his missing sister for a memorable contemporary bedtime story.
For years, the king and queen tried desperately to have a baby. Their wish was twice granted when an engineer and a witch gave them a little wooden robot and an enchanted log princess. There's just one catch, every night when the log princess sleeps, she transforms back into an ordinary log. She can only be woken with the magic words "Awake, little log, awake."
The two are inseparable until one day when the sleeping log princess is accidentally carted off to parts unknown. Now it's up to her devoted brother to find her and return her safely to the kingdom. They need to take turns to get each other home, and on the way, they face a host of adventures involving the Queen of Mushrooms, a magic pudding, a baby in a rosebush, and an old lady in a bottle.
This is acclaimed graphic novelist Tom Gauld's first picture book for children, inspired by a bedtime story he made up for his daughter. In his words, "I was trying to make a book inspired by three different sets of books: The books that I remember enjoying as a child, the books that I watched my daughters enjoying, and the books I enjoy now as an adult. I wanted the book to have its own quirky feeling but also to function like a classic bedtime story."
BONUS MATERIALS

Educator's Guide
Educator's Guide with Discussion Questions