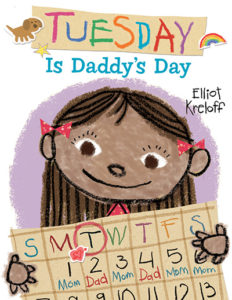 Buy the Hardcover at:
Bookshop
IndieBound
Barnes & Noble
Amazon
Tuesday is Daddy's Day
Hardcover
|
Pages:
48
Size:
8-1/2 x 11 |
USD:
$
18.99
ISBN:
9780823448913
Publication Date:
May 11, 2021
Age:
3-7
Themes:
Diversity & Inclusion
,
Divorce & Single Parent Families
,
Family & Relationships
,
Gender Issues
About the Book
The girl in this story has two rooms: one at Mommy's house and one at Daddy's apartment, which he shares with his partner Henry. All that's lacking is a puppy!
Daddy picks her up after school on Tuesdays. But mommy is here instead! What's going on? Becky likes everything to be the same. But sometimes change can lead to a happy surprise!
Tuesday Is Daddy's Day is a reminder that family comes in many forms, but always comes with love. In this book, best-selling author-illustrator Elliot Kreloff writes from the heart, as the story is based upon his own family.
BONUS MATERIALS

Educator's Guide
Educator's Guide with Discussion Questions