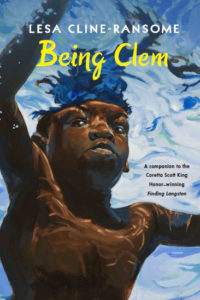 Buy the Hardcover at:
Bookshop
IndieBound
Barnes & Noble
Amazon
Also Available:
eBook

isbn: 9780823448968
August 3, 2021 | $

10.99
Being Clem
Hardcover
|
Pages:
256
Size:
5-1/2 x 8-1/4 |
USD:
$
17.99
ISBN:
9780823446049
Publication Date:
August 3, 2021
Age:
8-12
Themes:
20th Century
,
Black Voices
,
Death Dying & Grief
,
History
,
Social Themes
About the Book
A brilliant and vulnerable African American boy must navigate his family's losses and struggles in 1940s Chicago from the award-winning author of Finding Langston and Leaving Lymon.
Clem can make anybody, even his grumpy older sisters, smile with his jokes. But when his family receives news that his father has died in the infamous Port Chicago disaster, everything begins to fall apart. Clem's mother is forced to work long, tough hours as a maid for a wealthy white family. Soon Clem can barely recognize his home–and himself. Can he live up to his father's legacy?
In her award-winning trilogy, Lesa Cline-Ransome masterfully recreates mid-twentieth century America through the eyes of three boys: Langston, Lymon, and, now, Clem. Exploring the impact of the Great Migration, the Harlem Renaissance, Jim Crow laws, and much more, Lesa's work manages at once to be both an intimate portrait of each boy and his family as well as a landscape of American history.
BONUS MATERIALS

Reader's Guide
Reading Group Guide with Discussion Questions

Activity Sheets
Download this cool bookmark!