No Camp? No Problem! Holiday House Summer Camp
Welcome to Holiday House Summer Camp!
With many camps and programs cancelled this summer, we at Holiday House understand that kids need something fun and safe to fill this void.
So for the first time ever, we are proud to welcome you to Holiday House Summer Camp!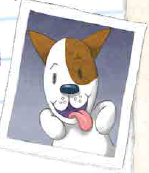 Consider this website your summer camp home base, where you can return to week after week to discover new activities to do at home, to learn about fun summer reading books to peruse, and to enjoy visits from author speakers.
Even though we may be far away, our online camp community will bring us together for adventures filled with laughter and wonderful reads.
Special Guests Dori, Baxter, Kevan, and Simon are Here to Kick Off Our Camp Season!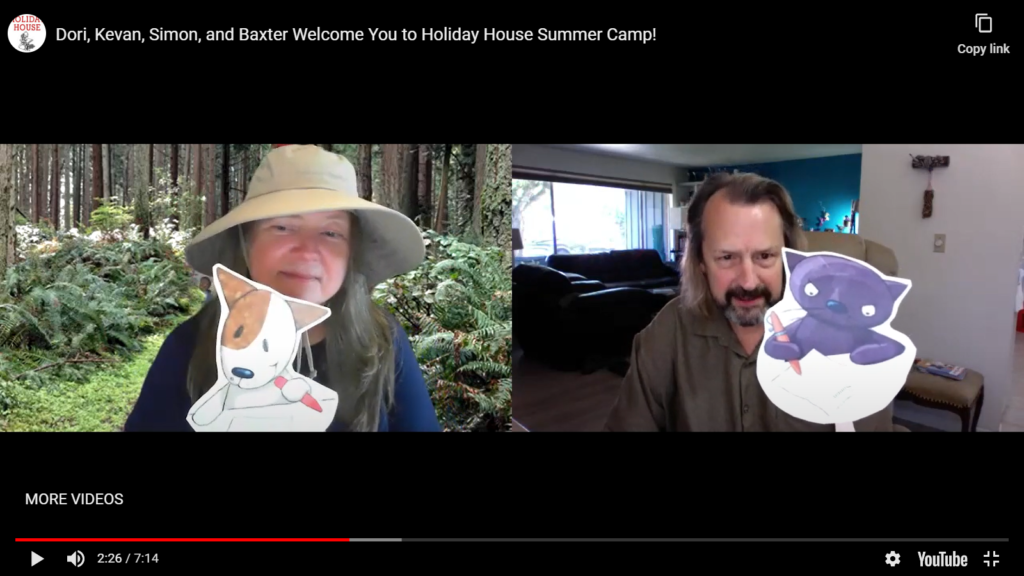 Send Dori and Kevan a letter at Holiday House / Dori Hillestad Butler & Kevan Atteberry, 50 Broad Street, Suite #301, New York, NY 10004
Camp News—August 24th–August 28th
And just like that, it's the last week of August! How crazy is it that time just flew by this summer? What was your favorite memory of the summer? More importantly, what was your favorite book that you read this summer?!
We hope that you enjoyed Holiday House camp this summer and that it helped make your summer a little sweeter!
Now that school is beginning again, we have another special treat for you! We will be sharing a another web page full of different resources to help you and entertain you while you are remote learning. Check back soon!
Guest Speaker of the Week! Joe Cepeda
Our guest speaker this week is Joe Cepeda, author of popular I Like to Read® books like I See, Up, and I Dig Join Pura Belpré Honoree Joe Cepeda as he reads I See and teaches you how to draw an adorable puppy! Welcome, Joe!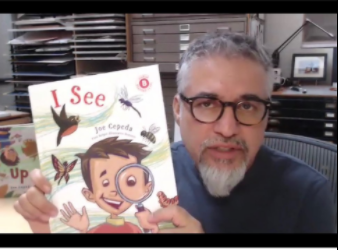 Holiday House Summer Camp Makes Reading Fun!
How many books can you read this summer?
We have created a summer reading log to help you keep track of how many books you finish this summer, and when you complete your reading log, you can send it to us to receive a prize!
Need help planning out your reading time this summer? Check out these handy calendars to get you started.
Spice up your reading list! Play Summer Reading Bingo by downloading this Bingo card. Each space has a different genre or type of book that you can try out to help vary your reading selections. Win Bingo, and you can send us your Bingo card to win a prize!
Check Out the Books in Our Reading Nook!
For any reader looking for some book recommendations this summer, these are some of our favorites. Many of these books also have guides with discussion questions or activity kits that go along with them. Click on each book to learn more about them!
FOR CHAPTER BOOK READERS
Craft Corner
Looking for fun summer camp activities to do at home? We've got you covered! Take a look at these author videos full of fun DIY activities and download activity sheets and kits to spark some indoor creativity.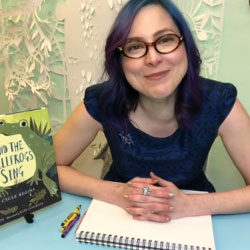 Kate Cosgrove
• AND THE BULLFROGS SING—Draw a Frog with Illustrator Kate Cosgrove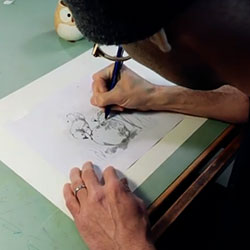 Phil Stead
• IN MY GARDEN drawing video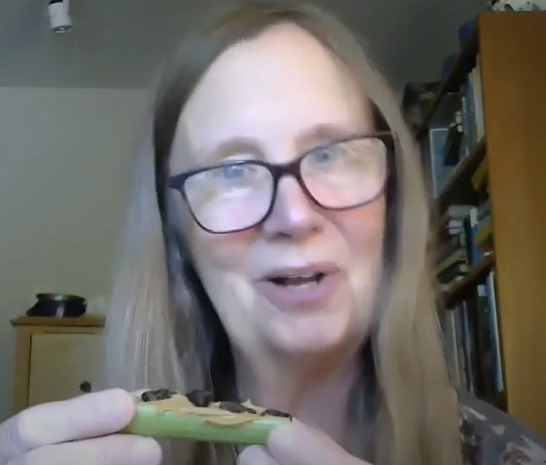 Claudia Mills
• NIXIE NESS: COOKING STAR cooking lesson
Check out our complete list of activity sheets and kits here! Some of our favorites are listed below.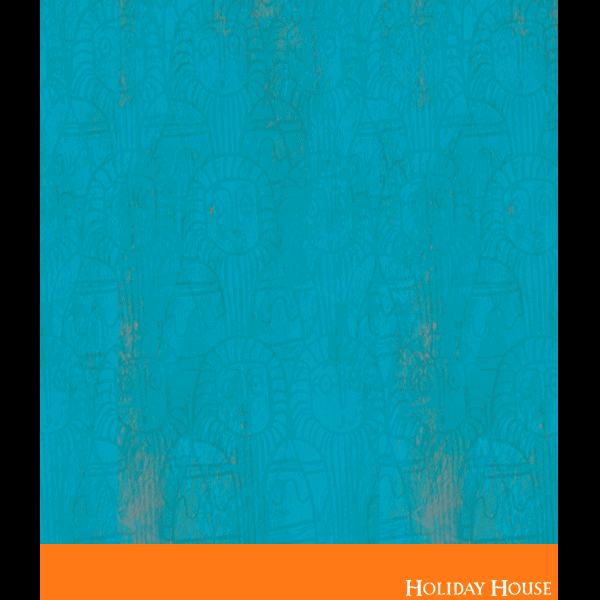 Draw Your Own Haunted Bicycle, Inspired by The Adventures of a Girl Called Bicycle
Make Your Own Sign for Change, Inspired by The Colossus of Roads
Writing Room
There's no better time to take up writing than summer vacation! Whether you are writing letters to your friends and family, near or far, or starting your own story, we have lots of materials to guide you in the writing room.
Send these postcards all over the world!
Bear Goes Sugaring Postcard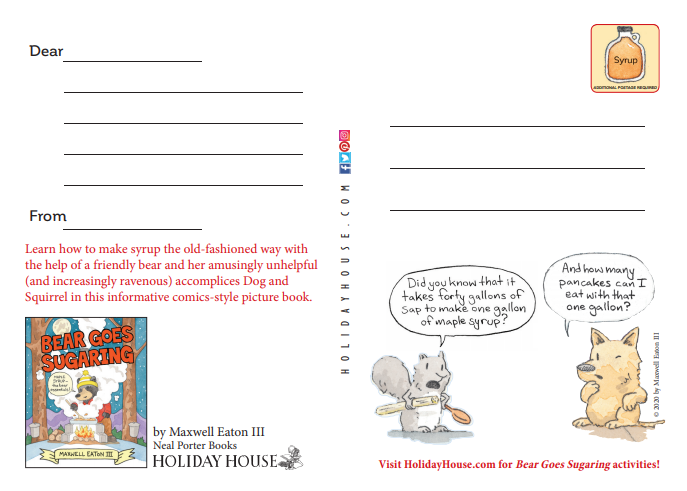 Dear Beast Postcard
Dive In: Swim with Sea Creatures at Their Actual Size Postcard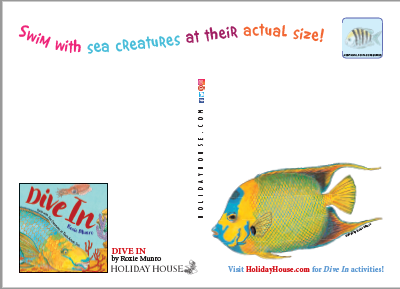 The Thank You Letter Postcard
Even wonder how authors "write" wordless picture books? Author and illustrator John Hare is here to help!
And learn to write different kinds of stories with our author guests!
Holiday House Book Club—August Book of the Month!
Congratulations to See No Color by Shannon Gibney, for being our second book club pick!
Now that baseball season is back, let's celebrate with this poignant young adult journey guaranteed to spark some essential conversations.
For as long as she can remember, sixteen-year-old Alex Kirtridge has known two things about herself: She's a stellar baseball player. She's adopted.
Alex has had a comfortable childhood in Madison, Wisconsin. Despite some teasing, being a biracial girl in a wealthy white family hasn't been that big a deal. What mattered was that she was a star on the diamond, where her father, a former Major Leaguer, coached her hard and counted on her to make him proud. But now, things are changing: she meets Reggie, the first black guy who's wanted to get to know her; she discovers the letters from her biological father that her adoptive parents have kept from her; and her changing body starts to affect her game.
Suddenly, Alex begins to question who she really is. She's always dreamed of playing pro baseball just like her father, but can she really do it? Does she truly fit in with her white family? Who were her biological parents? What does it mean to be black? If she's going to find answers, Alex has to come to terms with her adoption, her race, and the dreams she thought would always guide her.